Zucchini and Tomato Frittata
Nutrition Information
| Nutrient name | Nutrient weight per serving |
| --- | --- |
| Total Fat | 10.9g |
| Total Carbohydrates | 12.4g |
| Dietary Fiber | 4.6g |
| Sugars | 2.5g |
| Cholesterol | 327.4mg |
| Sodium | 290.1mg |
| Protein | 15.8g |
| Potassium | 1150.8mg |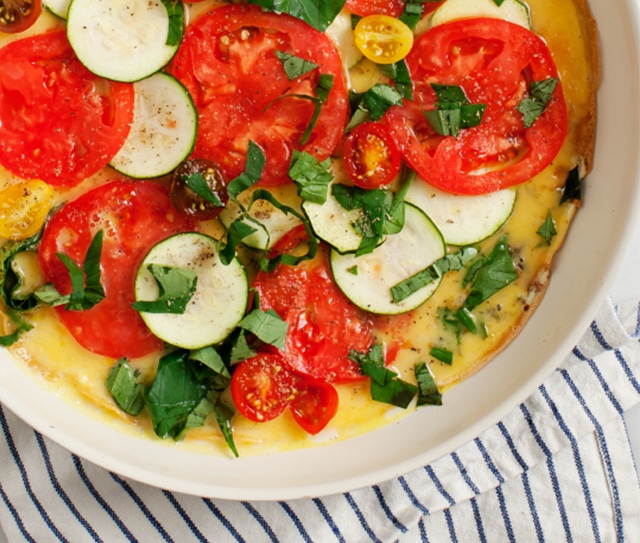 Zucchini and Tomato Frittata
Nutrition Information
| Nutrient name | Nutrient weight per serving |
| --- | --- |
| Total Fat | 10.9g |
| Total Carbohydrates | 12.4g |
| Dietary Fiber | 4.6g |
| Sugars | 2.5g |
| Cholesterol | 327.4mg |
| Sodium | 290.1mg |
| Protein | 15.8g |
| Potassium | 1150.8mg |
Ingredients
6 eggs
1/4 cup Almond Breeze® Unsweetened Original Almond Beverage (or for extra creaminess use Almond Breeze® Unsweetened Almond Cashew Blend Original)
1 teaspoon olive oil
Handful of chopped leafy greens (sweet potato greens or spinach)
1 small zucchini - sliced into thin coins
1 clove of garlic - minced
2 medium tomatoes - sliced
Handful of cherry tomatoes - halved
Fresh herbs (sage thyme or basil)
Salt & pepper
Pinch of smoked paprika (optional)
Directions
Preheat oven to 375 degrees.
Whisk together eggs and almond beverage with a pinch of salt. (For a fluffier frittata, I like to do this in a blender). Set aside.
Heat an 8 or 10 inch skillet on the stove. Add a bit of olive oil, then add the chopped greens, zucchini, minced garlic, and a few pinches of salt and pepper. Cook for just a minute or so - until the greens wilt and the zucchini starts to soften. Add a pinch of paprika, stir, then add the eggs.
Add the tomatoes, more salt & pepper. Turn the stove off and slide your pan into the oven.
Bake for 20-30 minutes, or until eggs are just set.
During the last 5-ish minutes of cooking time add sage and thyme on top (if you're using basil, add it just as the frittata comes out of the oven).
Remove from oven, let cool for 15 minutes (or more), then slice and serve. Add more salt & pepper to taste.
Notes
If you're using a skillet larger than 10 inches, use 8 eggs instead of 6.
For a prettier frittata, add all of your veggies in 2 layers. Add the first half as written, then add the rest after your eggs have partially set in the oven. Continue cooking until eggs are fully set. (Note: this step is entirely not necessary for the actual taste).
Made With These Almond Breeze® Products
Looking For Almond Breeze®?