Spinach and Bacon Quiche
Nutrition Information
| Nutrient name | Nutrient weight per serving |
| --- | --- |
| Dietary Fiber | 1.8g |
| Sugars | 0.7g |
| Sodium | 1510.3mg |
| Protein | 25.2g |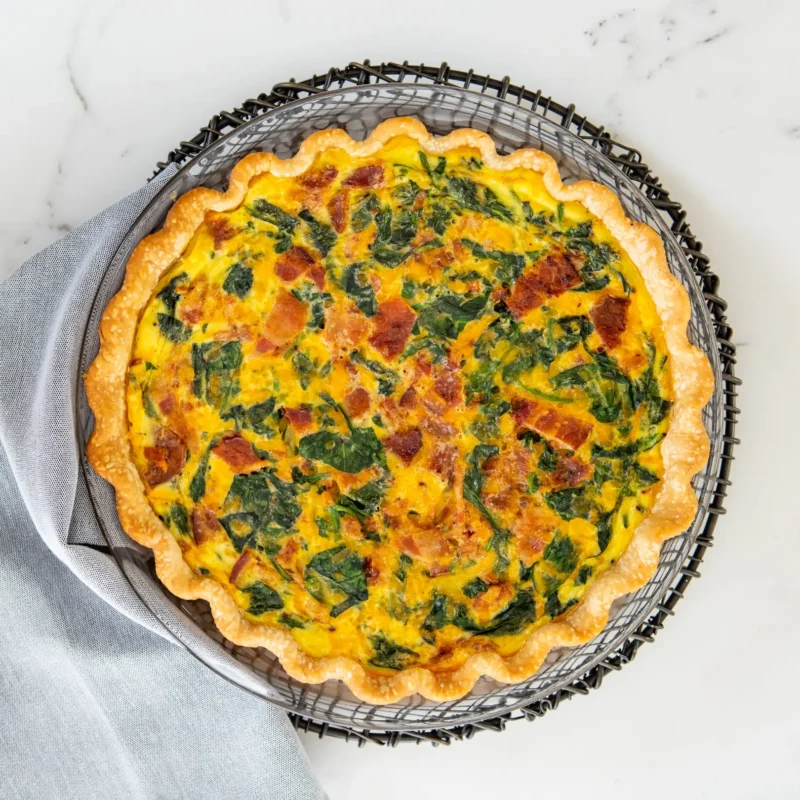 Nutrition Information
| Nutrient name | Nutrient weight per serving |
| --- | --- |
| Dietary Fiber | 1.8g |
| Sugars | 0.7g |
| Sodium | 1510.3mg |
| Protein | 25.2g |
Ingredients
1 pre-made pie crust
5 eggs
1 tsp garlic powder
1 tsp salt
½ teaspoon ground black pepper
½ tsp nutmeg
1¼ cups shredded Cheddar cheese, divided
2 cups fresh spinach, lightly sauteed
6 strips chopped cooked bacon
Directions
Preheat the oven to 375°F (191°C).
Unroll pie crust and press into a 9-inch pie plate, crimping the top edges if desired
Whisk eggs, almond beverage, garlic powder, salt, black pepper, and nutmeg together in a bowl.
Sprinkle 1 cup Cheddar cheese, sautéed spinach, and bacon into the pie crust and pour the egg mixture over top. Sprinkle remaining ¼ cup Cheddar cheese on top of egg mixture.
Bake quiche in the preheated oven until the center is completely set, about 40 minutes.
Let cool for 5 to 10 minutes before slicing and serving.
Made With These Almond Breeze® Products
Looking For Almond Breeze®?