Strawberry Almond Smoothie Bowl
Nutrition Information
| Nutrient name | Nutrient weight per serving |
| --- | --- |
| Total Fat | 22.5g |
| Total Carbohydrates | 103.8g |
| Dietary Fiber | 20.6g |
| Sugars | 53.9g |
| Sodium | 100.2mg |
| Protein | 15.9g |
| Potassium | 1966.7mg |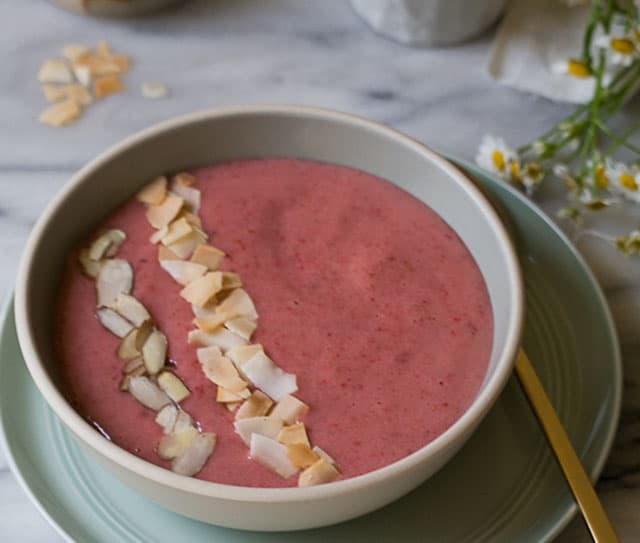 Strawberry Almond Smoothie Bowl
Nutrition Information
| Nutrient name | Nutrient weight per serving |
| --- | --- |
| Total Fat | 22.5g |
| Total Carbohydrates | 103.8g |
| Dietary Fiber | 20.6g |
| Sugars | 53.9g |
| Sodium | 100.2mg |
| Protein | 15.9g |
| Potassium | 1966.7mg |
Ingredients
1/4 cup sweetened or unsweetened coconut chips
3 bananas, peeled
1 cup strawberries, hulled and halved
1/4 cup Vanilla Unsweetened Almond Breeze® Almond Beverage
1 tablespoon powdered hemp protein
1/4 cup sliced almonds
Directions
Preheat the oven to 300 degrees F. On a parchment-lined baking sheet, spread out the coconut chips in an even layer. Transfer to the oven to toast for about 5 to 7 minutes, checking on it frequently. Remove the baking sheet from the oven and immediately transfer the coconut chips to a small bowl (they'll still keep toasting if you leave them on the sheet).
Add the bananas, strawberries, almond milk and hemp protein to a blender. Pulse until pureed. If the mixture is too thick, add a splash of almond beverage to help loosen the smoothie. The mixture should be slightly thicker than a traditional smoothie. Pour into a bowl and top with toasted coconut and sliced almonds.
Made With These Almond Breeze® Products
Looking For Almond Breeze®?