Mocha Banana Protein Smoothie Bowl
Nutrition Information
| Nutrient name | Nutrient weight per serving |
| --- | --- |
| Total Fat | 8.1g |
| Total Carbohydrates | 46.2g |
| Dietary Fiber | 7.1g |
| Sugars | 13g |
| Sodium | 137.4mg |
| Protein | 22.8g |
| Potassium | 165.6mg |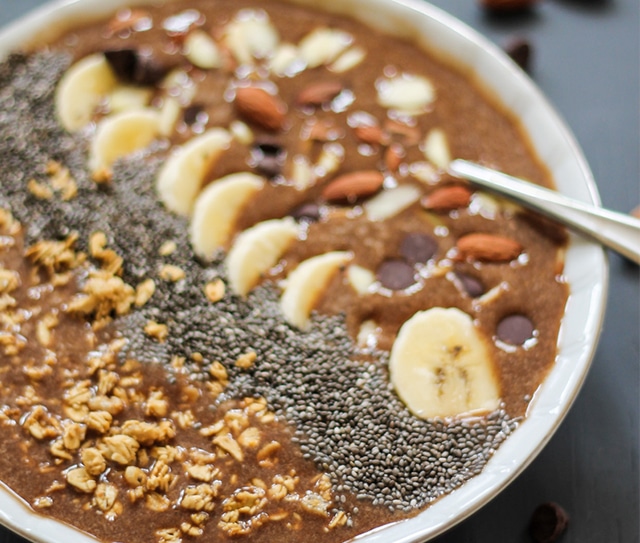 Mocha Banana Protein Smoothie Bowl
Nutrition Information
| Nutrient name | Nutrient weight per serving |
| --- | --- |
| Total Fat | 8.1g |
| Total Carbohydrates | 46.2g |
| Dietary Fiber | 7.1g |
| Sugars | 13g |
| Sodium | 137.4mg |
| Protein | 22.8g |
| Potassium | 165.6mg |
Ingredients
1 large frozen banana
1/2 cup Almond Breeze Chocolate Almond Beverage (plus more if necessary)
1 scoop your favorite Protein Powder (I recommend plain; vanilla; or chocolate)
1 cup spinach (if you want a superfood boost)
A few ice cubes
1 packet instant coffee; if desired
Almond Butter (optional)
Toasted Almonds (optional)
Chia seeds (optional)
Low-fat Granola (optional)
Sliced Bananas (optional)
Fresh Strawberries (optional)
Carob chips (optional)
Unsweetened Coconut flakes (optional)
Directions
Add all ingredients except desired toppings to a blender and blend until smooth and creamy. If necessary, add more chocolate almond beverage and/or ice to reach the desired consistency. The smoothie should be fairly thick so that you can eat it with a spoon.
Pour into a bowl and top with desired toppings such as chia seeds, your favorite flavored almonds, and granola.
Made With These Almond Breeze® Products
Looking For Almond Breeze®?