Make-Ahead Mocha Smoothie
Nutrition Information
| Nutrient name | Nutrient weight per serving |
| --- | --- |
| Total Fat | 22g |
| Total Carbohydrates | 42g |
| Dietary Fiber | 8g |
| Sugars | 26g |
| Sodium | 160mg |
| Protein | 10g |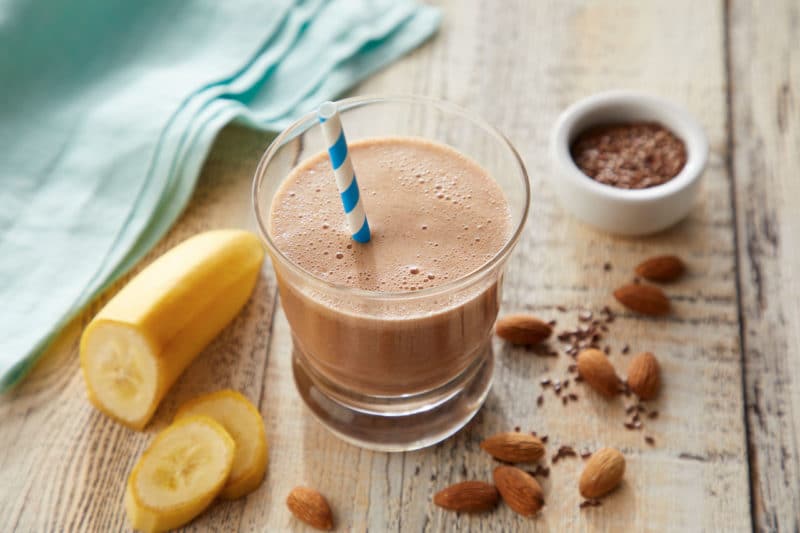 Make-Ahead Mocha Smoothie
Nutrition Information
| Nutrient name | Nutrient weight per serving |
| --- | --- |
| Total Fat | 22g |
| Total Carbohydrates | 42g |
| Dietary Fiber | 8g |
| Sugars | 26g |
| Sodium | 160mg |
| Protein | 10g |
Ingredients
1½ cups brewed coffee; cooled
4 zip top sandwich bags
2 bananas; peeled and cut into chunks
½ cup smooth almond butter
4 cups Almond Breeze Chocolate Almond Beverage or Almond Breeze Unsweetened Chocolate Almond Beverage
4 Tbsp flax meal (optional)
Directions
Fill 12 compartments of an ice cube tray with coffee; freeze until firm.
Working with one sandwich bag at a time, add half a banana, 2 tablespoons of almond butter and 3 coffee ice cubes. Seal and place in the freezer. Repeat with the remaining bananas, almond butter and coffee ice cubes. Freeze until firm; store in the freezer.
To prepare 1 serving: add the contents of 1 baggie to a blender. Top with 1 cup almond beverage and process until smooth. Adjust consistency as desired by adding additional almond beverages. Stir in 1 tablespoon flax meal, if desired. Serve immediately.
Made With These Almond Breeze® Products
Looking For Almond Breeze®?