Creamy Green Minestrone with Black Sesame Almond Crackers
Nutrition Information
| Nutrient name | Nutrient weight per serving |
| --- | --- |
| Dietary Fiber | 18.9g |
| Sugars | 17.7g |
| Sodium | 2613.6mg |
| Protein | 40.7g |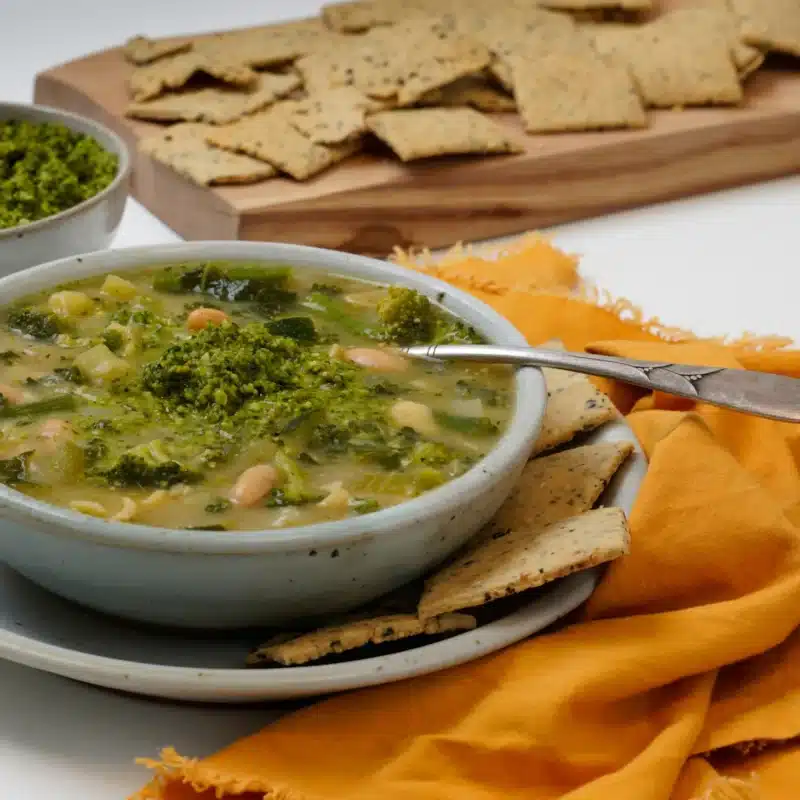 Creamy Green Minestrone with Black Sesame Almond Crackers
Nutrition Information
| Nutrient name | Nutrient weight per serving |
| --- | --- |
| Dietary Fiber | 18.9g |
| Sugars | 17.7g |
| Sodium | 2613.6mg |
| Protein | 40.7g |
Ingredients
Minestrone:
1 tablespoon olive oil
1-1/2 cups yellow onion, finely diced
1 cup celery, finely diced
1 tablespoon garlic, minced
2-1/2 cups broccoli, finely diced
2 cups cabbage, julienned
2 cups zucchini, finely diced
1 cup green beans, cut into 1-inch pieces
1-1/2 cups kale, destemmed and sliced
1 teaspoon thyme leaves, chopped
1 teaspoon rosemary, chopped
1 teaspoon sea salt
1 teaspoon ground black pepper
1 16-oz. can cannellini beans, drained and rinsed
6 cups chicken stock (or vegetable stock)
1 cup seashell pasta (regular or gluten-free), uncooked
1 cup Almond Breeze Unsweetened Original Almond Beverage

Pistou:

1 cup basil leaves
1 cup flat-leaf parsley, mostly leaves
1/2 cup hazelnuts, toasted
1/2 cup Parmesan cheese, shredded
1/2 teaspoon sea salt
1/2 teaspoon ground black pepper
1/4 cup olive oil

Black-Sesame Almond Crackers:

1/2 cup almond flour
1/2 cup gluten-free flour
2 tablespoons black sesame seeds
2 tablespoons Everything Bagel seasoning
2 tablespoons Parmesan cheese, finely grated
1/2 teaspoon sea salt
1/2 teaspoon garlic powder
1/4 teaspoon baking soda
1 egg white
2 tablespoons avocado oil
2 tablespoons Almond Breeze Unsweetened Original Almond Beverage
2 sheets of parchment paper
Directions
Heat the oil in a heavy-bottomed pot until it shimmers. Add the onion, celery, and garlic, and sautė the vegetables for 3 to 4 minutes.
Add the broccoli and cabbage, and cook for another 3 to 4 minutes.
Add the zucchini, green beans, kale, thyme, rosemary, salt and pepper, and sautė for 2 minutes.
Add the cannellini beans and chicken (or vegetable) stock. Bring the soup to a simmer.
Stir in the pasta and cook for 5 minutes, or until it is al dente.
Stir in the almond beverage, turn off the heat, and cover the pot.
When serving the soup, top each bowl with a few spoonfuls of pistou.
Place the ingredients in a food processor and blend until mostly smooth. Scrape the sides several times to make sure all the ingredients have been pulsed. Place the pistou in a bowl and set aside.
Turn the oven on to 350 degrees.
In a medium bowl, add the dry ingredients and mix with a fork, making sure to break up any clumps.
Add the egg white and avocado oil to the bowl, and mix well with a spoon or by hand.
Add the almond beverage and stir until the texture is "craggy." Bring the dough together with your hands and mold it into a flattened ball.
On a piece of parchment paper about the size of a sheet pan, knead the dough until it feels smooth. Set it in the center of the paper, and place another piece (same size) of parchment paper on top.
Using a rolling pin or a wine bottle, roll out the dough until it is 1/8th of an inch or thinner.
Carefully pick up the three layers and place them on a sheet pan. Remove the top layer of parchment paper. (The bottom layer stays.)
Using a large knife or a pizza cutter, cut the crackers into the shape desired
Place the sheet pan on the middle rack of the oven and bake the crackers for 10 minutes. Rotate the sheet pan to ensure even baking and bake for an additional 10 minutes.
Remove the crackers and let cool. Once cool, they will snap apart easily. They will stay fresh in an airtight container for up to a week.
Looking For Almond Breeze®?