Beef Stew
Nutrition Information
| Nutrient name | Nutrient weight per serving |
| --- | --- |
| Dietary Fiber | 6g |
| Sugars | 10.5g |
| Sodium | 1297.7mg |
| Protein | 33g |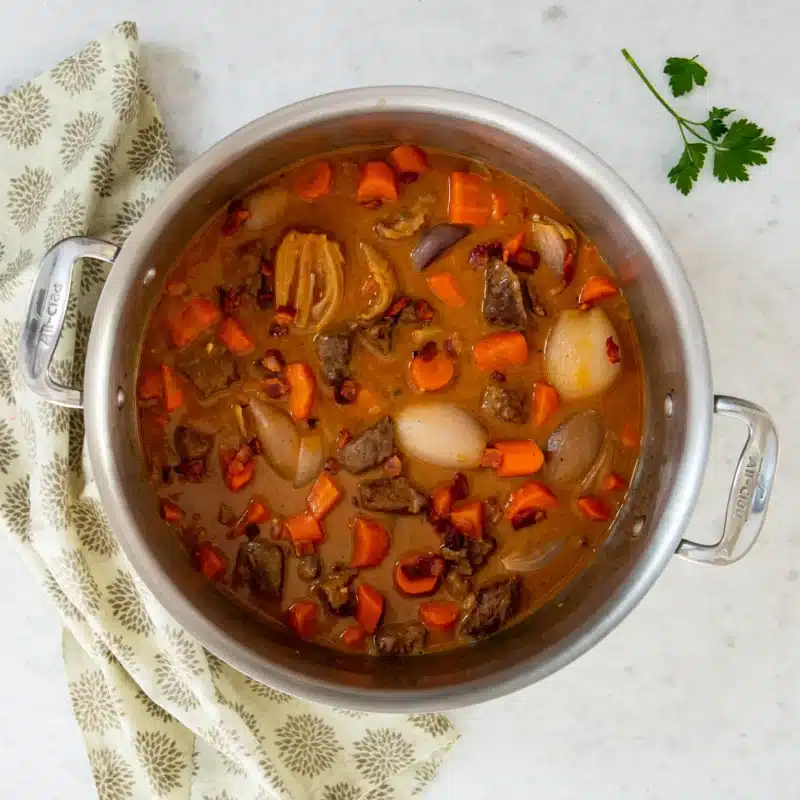 Nutrition Information
| Nutrient name | Nutrient weight per serving |
| --- | --- |
| Dietary Fiber | 6g |
| Sugars | 10.5g |
| Sodium | 1297.7mg |
| Protein | 33g |
Ingredients
4 slices bacon, chopped
1 pound beef chuck, cut into cubes
½ cup all-purpose flour
Salt and ground black pepper
6 shallots, peeled and cut in half
6 carrots, peeled and cut into 1-inch chunks
2 tablespoons tomato paste
1 cup beef broth
2 tablespoons Dijon mustard
Chopped fresh parsley for garnish
Directions
Cook bacon in a heavy pot or Dutch oven over medium high heat until browned and crispy, 5 to 10 minutes. Remove bacon from the pot and drain on paper towels, leaving the bacon fat in the pot.
Combine beef with flour, salt, and black pepper in a plastic bag and shake until beef is coated evenly; add to pot and cook over medium high heat until browned, about 5 minutes.
Add shallots, carrots, and tomato paste to beef and stir; pour in broth and simmer for 90 minutes.
Stir cooked bacon, almond beverage, and mustard into beef mixture and bring to a simmer, 2 to 3 minutes. Ladle stew into bowls and garnish with parsley.
Made With These Almond Breeze® Products
Looking For Almond Breeze®?