Easy Homemade Popsicle Recipes (That Make Great Summer Snacks for Kids!)
An ice cold, refreshing popsicle on a hot, sunny day – a delightful summer snack for kids and grown-ups alike. To help you beat the heat and add a new family activity to the list, we've compiled our favorite popsicle recipes for kids that are easy to make and so delicious you won't want to go back to store-bought options. As an added benefit, these homemade ice pops are packed with healthier ingredients like almond beverage and fruits.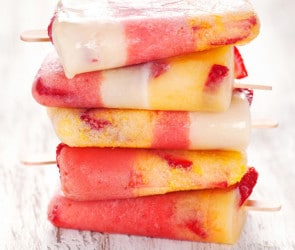 Ingredients
1/4 cup sugar
2 tablespoons + 2 teaspoons cornstarch
2 tablespoons butter or coconut oil
1 teaspoon vanilla extract
1/4 cup orange juice concentrate thawed
Directions
Whisk together Almond Breeze®, sugar, cornstarch, butter or coconut oil and extract in a small saucepan.

Bring to a simmer, whisking frequently.

Cook over low heat until mixture has thickened, stirring frequently.

Let cool, stirring occasionally.

Place 2/3 of the mixture in a separate bowl and stir in orange juice concentrate. Combine mixture from both bowls and swirl very lightly.

Spoon into ice cream pop molds and insert a handle or stick into each.

Freeze overnight.
Notes
If using popsicle sticks, cover each mold firmly with foil. Make a tiny slit in each and insert sticks.
Ingredients:
1 1/2 cup Almond Breeze® Chocolate
1/4 cup almond butter
2 bananas
Directions:
Blend all ingredients then pour into small (3 oz.) cups
Insert popsicle sticks and secure with tape
Freeze for 3 hours
Ingredients:
2 1/3 cup Vanilla Almond Breeze®
1 1/4 cupCoconut Almond Breeze®
Partially thawed or fresh blueberries
Directions:
Place half ounce of blueberries with juice in the bottom of each ice pop mold
Pour ¼ cup of your choice of Almond Breeze® Almond Beverage over blueberries
Place ice pop mold on a tray in the freezer for 30-45 minutes – This helps hold fruit in place before adding more almond beverage
Once partially frozen, add more blueberries
Top off all ice pops off with more almond beverage, leaving a quarter of an inch at the top to allow for expansion when freezing.
Freeze for 2-3 hours or overnight
Ingredients:
3 1/2 Cups Almond Breeze® Unsweetened Original (or for extra creaminess use Almond Breeze® Unsweetened Almond Cashew Blend Original)
1 Cup orange juice
2 oranges peeled and sectioned
1/2 Cup frozen strawberries
1/2 Cup fresh strawberries
Directions:
Strawberry Layer: combine 1 Cup Unsweetened Original Almond Beverage, ½ Cup orange juice, ½ Cup frozen strawberries, ½ Cup fresh strawberries and 1 orange (peeled and sectioned). Blend until smooth. Pour into glass jar and set aside. Keep refrigerated.
Orange Layer: combine 1 Cup Almond Breeze®, ½ Cup orange juice, and 1 orange (peeled and sectioned). Blend until smooth. Pour into glass jar and set aside. Keep refrigerated.
Pour one flavour into mold. Freeze 30-40 minutes. Continue with each flavour until mold is full. Freeze for 4-6 hours total.
How to make regular popsicles (no layers): Combine all ingredients into a blender, blending until smooth. Pour into popsicle mold. Freeze 4-6 hours. Option of adding fresh slices of strawberries to mold.
---
These homemade ice pops will have you and your family feeling refreshed and ready to conquer the hot weather in no time! So sit back, relax, and enjoy!
Looking For Almond Breeze®?