Strawberry Salad with Poppy Seed Dressing
Nutrition Information
| Nutrient name | Nutrient weight per serving |
| --- | --- |
| Total Fat | 15g |
| Total Carbohydrates | 14g |
| Dietary Fiber | 4g |
| Sugars | 7g |
| Sodium | 340mg |
| Protein | 3g |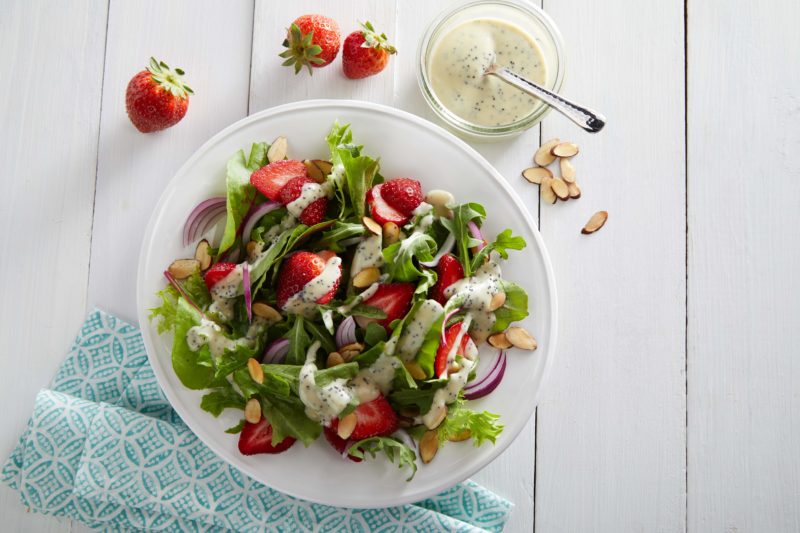 Strawberry Salad with Poppy Seed Dressing
Nutrition Information
| Nutrient name | Nutrient weight per serving |
| --- | --- |
| Total Fat | 15g |
| Total Carbohydrates | 14g |
| Dietary Fiber | 4g |
| Sugars | 7g |
| Sodium | 340mg |
| Protein | 3g |
A delicious salad dressing is one way to make it easier to eat your veggies. This slight sweet, slight tangy dressing pairs perfectly with ripe, juicy strawberries.
Ingredients
1 container (5.3 oz.) Almond Breeze™ Original Sweetened Almondmilk Yogurt
3 Tbsp. olive oil
2 Tbsp. apple cider vinegar
2 tsp. Dijon mustard
2 tsp. poppy seeds
½ tsp. onion powder
½ tsp. salt
¼ tsp. ground black pepper
5 oz. mixed baby greens
1½ cup sliced strawberries
½ cup thin sliced red onion
¼ cup toasted almonds
Directions
In a bowl whisk together all the poppy seed dressing ingredients. Refrigerate until ready to use, up to 5 days.
To make the salad, combine mixed greens, strawberries, onions and almonds. Add desired amount of dressing and toss to combine.
Serve salad immediately.
Looking For Almond Breeze®?